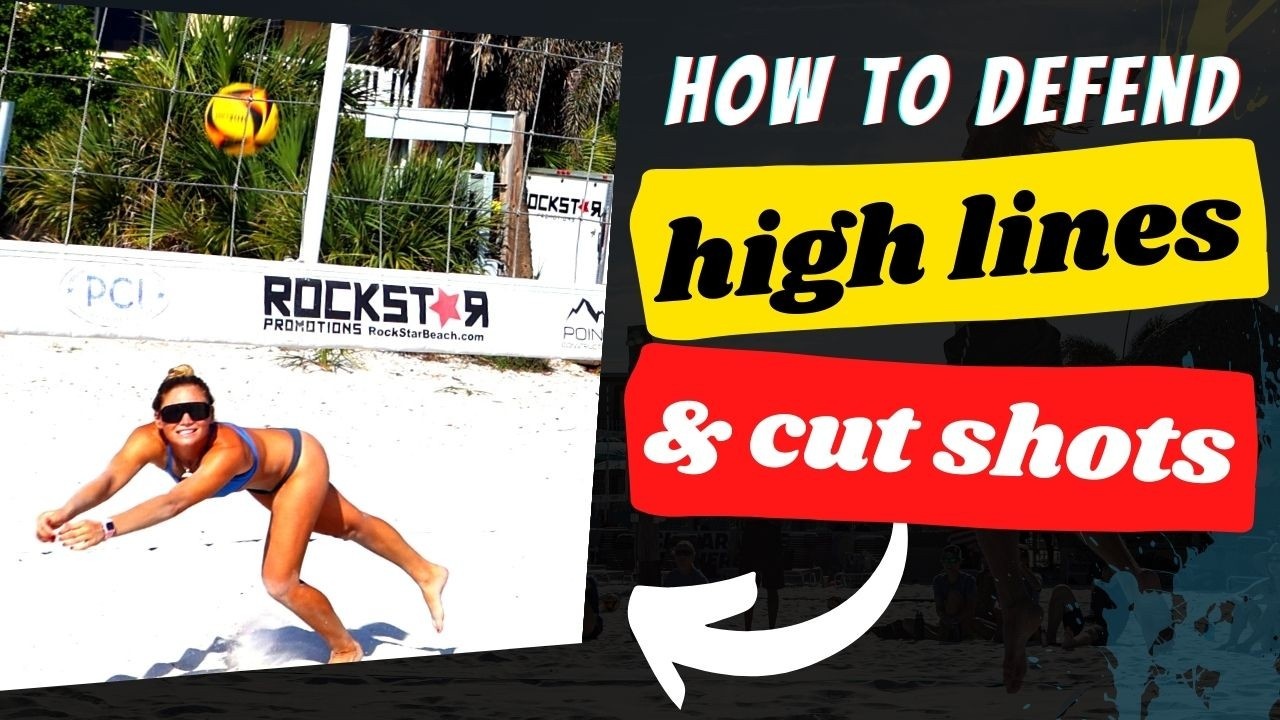 Defending High Lines and Cut Shots in Beach Volleyball
Jun 13, 2022
Dig Those High Lines And Cut Shots!
Are you struggling to find the right positions to defend the high lines and cut shots during your beach volleyball games and tournaments?
Watch this video as one of our professional volleyball players coaches a Better at Beach camp athlete on how to move quickly and snag those shots every time!
Topics Covered in this Blog:
DEFENSIVE POSITIONS IN BEACH VOLLEYBALL
DEFENSIVE CHASE FOOTWORK AND MECHANICS IN BEACH VOLLEYBALL
The high line shot is the most common offensive shot in beach volleyball. Don't forget those tricky cut shots, too! So, guess what is also a critical skill in beach volleyball?
Knowing how to dig the high lines and cut shots. It's imperative to chase down a few high lines and cut shots every match. It throws off the offensive player on the other side:
If the easiest shot to hit, and the most consistent place to score, is no longer available, then what do I do now? It helps create some confusion with the offense and gives you a better chance to set up the ultimate defense for winning more points every volleyball match.
When you show someone that you have the ability to dig their high line and cut shots, you're taking away an option. As a defender, that's crucial for your end game! Now, with practice makes perfect. If you want to have your gameday matches thoroughly analyzed by one of our professional volleyball players and coaches, check out our Complete Player Program.
They will help you master all of the defensive positioning, mechanics, reading and tactics for beach volleyball defenders. They will also show you the right positioning and movement for every type of defense. THEN, show you when to use different defensive play calls to beat certain types of players. You're going to learn how to flat-out SHUT ATTACKERS DOWN!
DEFENSIVE POSITIONS IN BEACH VOLLEYBALL
Maybe you have been playing volleyball for years, but there is always something new to learn through consistent and steady practice. Unlike indoor volleyball, beach volleyball is essentially one-on-one. You have one blocker at the net and one defender. The odds as a defender are not particularly in your favor. Beach volleyball defense is very heavily reliant on reading the attacker, as well as trying to confuse your attacker's vision on your defensive positioning.
Want to keep putting pressure on the offense by being in the best positions? The video below will help elevate your beach volleyball defense almost immediately.
DEFENSIVE CHASE FOOTWORK IN BEACH VOLLEYBALL
Even the most tenacious defenders can look like a statue against great hitters. One of the most important things a beach volleyball defender can do is work on what we like to call chase mechanics. Chase mechanics are just what they sound like: The mechanics you're using while running down a shot.
Don't think of this situation as a guess. Think of it as a race. "Can your best high line beat my balance and footwork?"
The first step to chasing down a ball isn't a step at all. It's being balanced. If you're off-balanced, leaning one way, then you're really only going to be able to dig one shot -- the one towards which you are leaning. If you're balanced, you can make a smooth move to dig the cut shot and the high line.
Want to show your support and help us make more content?
Buy one of these cool beach volleyball gears...
If the shot is a high line, your first step should be a crossover step. Your inside foot will pivot in the sand while your outside will cross over. It should look like you're stealing a base in baseball. A great explanation of defensive chase footwork and mechanics can be seen in this video where Mark takes you step by step to bettering your beach volleyball game.
If you want your legs to be as powerful and fast as possible for chasing down those high lines and cut shots, check out our 60-day strength and conditioning program, which will have you jumping higher, hitting harder -- and digging those high lines and cut shots -- in no time.
If you are still hungry for more, how would you like to have one of our Better at Beach Coaches and Professional Beach Volleyball icons give you one-on-one coaching and dig further into your defensive strategies?
If you enroll in the COMPLETE PLAYER PROGRAM - ULTIMATE DEFENDER,
you get, just that, and MORE!
Get Stronger and Faster. Dig More High Lines and Cut Shots. Clean up your technique.
Learn where to be and when to be there from coaches and players who have done it at the highest level.
We guarantee you will win more matches.
It's finally time for you to play at the next level!
COMPLETE PLAYER PROGRAM- ULTIMATE DEFENDER
🔥 💪 🏐 JOIN OUR EMAIL LIST + FREE BEACH VOLLEYBALL DRILL BOOK 🔥 💪 🏐
GET YOUR FREE BETTER AT BEACH DRILL BOOK
🔥 💪 🏐 DOWNLOAD 3 COMPLETE BEACH VOLLEYBALL WORKOUTS 🔥 💪 🏐
3 FREE WORKOUTS FROM BETTER AT BEACH
🔥 💪 🏐 SUBSCRIBE TO THIS CHANNEL 🔥 💪 🏐
BETTER AT BEACH YOU TUBE CHANNEL
🔥 💪 🏐 GET SOME VOLLEYBALL SWAG & SUPPORT OUR CHANNEL 🔥 💪 🏐
BETTER AT BEACH VOLLEYBALL SWAG
🔥 💪 🏐 BEACH VOLLEYBALL VACATIONS AND TRAINING CAMPS 🔥 💪 🏐
JOIN US FOR BETTER AT BEACH VACATIONS AND CAMPS
🔥 💪 🏐 WANT TO ORGANIZE A CLINIC IN YOUR HOMETOWN?!?! 🔥 💪 🏐
Email: [email protected]
🔥 💪 🏐 VOLLEYBALL EQUIPMENT 🔥 💪 🏐
🔥 💪 🏐 FOLLOW 🔥 💪 🏐
VolleyChat! Facebook's #1 Beach Volleyball Group
https://www.facebook.com/groups/bette...
Facebook
https://www.facebook.com/betteratbeac...
Instagram
https://www.instagram.com/betteratbeach
TikTok
https://www.tiktok.com/@betteratbeach...
LinkedIn
https://www.linkedin.com/company/bett...
Pinterest
https://www.pinterest.com/Betteratbea...
🔥 💪 🏐 MORE VIDEOS ON... 🔥 💪 🏐
Passing
https://www.betteratbeach.com/blog?ta...
Setting
https://www.betteratbeach.com/blog?ta...
Attacking
https://www.betteratbeach.com/blog?ta...
Serving
https://www.betteratbeach.com/blog?ta...
Defending
https://www.betteratbeach.com/blog?ta...
Blocking and Peeling
https://www.betteratbeach.com/blog?ta...
Strength and Conditioning for Volleyball
https://www.betteratbeach.com/blog?ta...
Practice Planning and Coaching Advice
https://www.betteratbeach.com/blog?ta...
The Mental Game
https://www.betteratbeach.com/blog?ta...
Match & Video Analysis
https://www.betteratbeach.com/blog?ta...
***
Fix the holes in your game!
Maximize your strengths!
Make noticeable progress every week!
Learn the game anywhere, anytime with or without a partner!
We'll guide you through a proven path to rapidly improve every aspect of your game.
Find out more!
FREE Download
36 of the Most Effective Drills for Beach Volleyball